By Judy McSpadden
Who would have thought that an after-school martial arts program would be the key factor in one student's acceptance at West Point?
Ryan Brunner had wanted to join the Army since childhood, but he was disappointed when he wasn't accepted to the U.S. Military Academy, the school of his dreams, the first time he applied in 2014.  A year later, he applied a second time — adding his recent black belt credential to his application package. Today he's a member of West Point's class of 2019.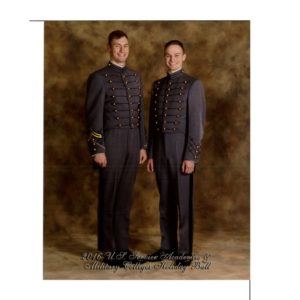 "The only significant thing that was different the second time he applied was the black belt," said Ryan's mother, Lt. Col. Fran Oleen, Deputy Director of Plans, Operations and Training for the Kansas National Guard. "It counted as a varsity letter. That was a big factor in his getting in."
Both Ryan and his younger brother, Evan — a West Point cadet in the class of 2020 — began taekwondo lessons when their mother deployed to Afghanistan in 2010. Colonel Oleen learned about Our Military Kids, and she applied for a grant.
"Mom wanted to find something for the brothers to do while she was gone," said Evan. "Ryan and my younger brother, Leyton, had found a taekwondo school in Topeka. They really liked it. They would come home and say, 'Evan, you should try this!' So a week before Mom left, I went with them to practice. It looked like a lot of fun, and I joined too."
The Afghanistan deployment was Colonel Oleen's second; her first was to Bosnia, when Ryan was 7. For Ryan, the second deployment was easier for him to deal with because he was older. "But I still thought about Mom a lot," he said. "It was my junior year, and there were all kinds of major events happening."
Colonel Oleen, a military member for 27 years, said, "I have four boys. It was horrible when I left them for Afghanistan. During the deployment, I worked with and for great people, and I was busy, but I wanted to feel connected and involved with my family. I missed my kids."
Colonel Oleen said the family would try to stay in touch, but the communications technology she was using wasn't very good. "If it rained, the phones went out. There wasn't good Wifi in the barracks. Facetime rarely worked."
Fortunately, she could email, and she could Skype for parent-teacher conferences.
When she returned seven months later, Evan asked her to take taekwondo with them, which she did, earning her black belt too.
Both Ryan and Evan wrote in their college application essays that their mom's deployment to Afghanistan was a pivotal time for them. They gained an understanding about military service. They realized that their parents had military obligations that required the children sacrifice too.
Colonel Oleen started her military service in the enlisted force; then she moved into law as a JAG and transitioned again to the logistics field. She said, "We've shown the boys that serving your country is a positive thing. I have made a lot of the choices because I didn't want to give up the military career. But if something had to give, it was always my career and not my kids. I still do that."
Ryan, a computer science major, attended a state university for a year before attending West Point. While he appreciates university ROTC programs as good commissioning options, he believes West Point is the best option for him.
"Here," he said, "I'm constantly reminded of what I'm being asked to do. It makes you a good officer and leader."
Ryan says balance and time management are the hardest aspects of life at a military academy. "At West Point, they pile on a lot to force you to manage your time."
Out of about 5000 cadets, the brothers get to see each other once in a  while. Assigned to different regiments, they are involved in different activities. Ryan, a computer science major, is a member of the cyber team. Evan, majoring in engineering management, is in the glee club.
"It makes it easier having my brother here," said Ryan. "I know if I'm having a hard time, I can go talk to Evan. We have inside jokes. It's nice having someone who gets you."