By Judy McSpadden
Seven years ago, John Stefan Jenkins was one of the first Our Military Kids grant recipients to receive the title, "Our Military Kid of the Year." At age 17, this former resident of Jamaica, New York, was recognized for stepping up to support his family and give back to his community, while his dad, an Army National Guardsman, was deployed to Kuwait.
"I remember John well," said Linda Davidson, OMK's executive director. "He was so personable and positive. He loved sports — he volunteered coaching youth basketball. He also volunteered at his church and served in a community service group called the Young Men's Alliance of Queens."
Davidson wasn't the only one impressed with him. When Jenkins came to Washington D.C. to accept his award, the former chairman of OMK's board of directors, Fred Smith, also saw something special in this high school senior, who was dressed in a suit purchased by members of his church. Davidson recalled, "Jenkins hadn't come from a privileged background, yet Fred saw that he had a special drive to do something big in his life."
Jenkins recalled the days before he received his OMK grant: "It was my senior year, and I was on the basketball team. I thought my dad would be at my games. But Dad wanted to take us out to dinner one night. Then he announced that he was going on his third deployment."
Jenkins, who resist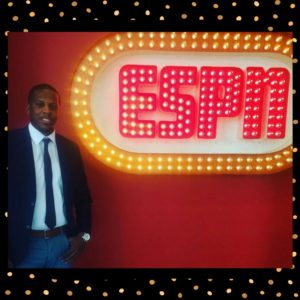 s negative conversation, admitted, "When Dad told us about the deployment, it was tough, you know? I mean, I appreciate people who put their lives on the line, but he had already deployed twice. The first time, I was in junior high school. Then he left again when I was a freshman in high school. I was trying to adjust."
After departing for Kuwait, his dad emailed a suggestion that Jenkins apply for a grant from Our Military Kids, but Jenkins didn't know which activity to sign up for. "I had all these things I was interested in," he said. "I was really good at sports, and I had a passion for writing – I was writing for the school newspaper, but there was some other hole I needed to fill."
Since he was close to his cousins, who had just moved back to New York, he and his brother decided to use the grant to join them in taking hip-hop dancing. Having fun with family was just what he needed. "We added hip-hop to the cousin resume of fun things to do," he laughed.
During his dad's deployment, Jenkins worked hard to raise his grades in school. He was eventually recognized as the senior with the most improved grade point average.
He said, "A lot of young men my age were not making good decisions." These words echoed similar ones that he had included on his OMK application in 2010, when he added, "I have decided, however, that I am not going to let my surroundings define me. I am determined to be successful."
Jenkins went on to Delaware State University, where he majored in Mass Communications with a concentration in "Convergence Journalism," a combination of TV, radio and film studies. He wrote for the college newspaper, worked in sports journalism, and even hosted his own radio program (with a light-hearted "comedic" approach). His dad went on a fourth deployment his senior year in college, but, Jenkins gladly added, "He did come back for my graduation."
After college, Jenkins got a call from ESPN headquarters in Connecticut. He was selected for a one-year associate's program working behind the scenes, collecting sports highlights for the on-air talent to discuss.
"It was real cool," he said. "You're working on something, and 20 minutes later, it's on TV. I'll never forget my first highlight. It was a women's softball game, Kentucky vs. Tennessee."
Next, Jenkins landed a job doing social media for the National Basketball Association. "We cut plays from games and focus on the best plays of the week."
Jenkins, who married last December, lives in Brooklyn. He said he plans to "feed my on-air ambitions." Given his drive, he'll likely do that, and Our Military Kids will see one of its stars sharing his love of sports on national television.
(Please mail comments to JSMcSpadden@ourmilitarykids.org.)