McLean, Virginia – NASCAR up-and-comer Corey LaJoie begins his 2019 race season with big ambitions for two of his newest partners – Go Fas Racing and nonprofit Our Military Kids.
The 27-year-old, third generation driver, will debut as part of the Go Fas Racing Team at this month's Daytona 500.  It will also be LaJoie's inaugural event as a national spokesperson for Our Military Kids, a 15-year-old nonprofit that supports military kids whose parents are deployed or recovering from severe injuries. Our Military Kids pays for kids' extracurricular activities while their parents are deployed overseas with the National Guard or Reserves, or, recovering from severe combat injuries incurred in all branches of service.
LaJoie, who was married on New Year's Eve and signed with Go Fas just weeks beforehand, said that being able to raise money and awareness for military kids is the "icing on top" of an incredible start to the 2019 season. "I'm excited to work on behalf of an extraordinary cause for military kids and families," LaJoie said. "The entire NASCAR community stands behind our military and appreciates the sacrifices they make for us.  By supporting for Our Military Kids, we can show our gratitude."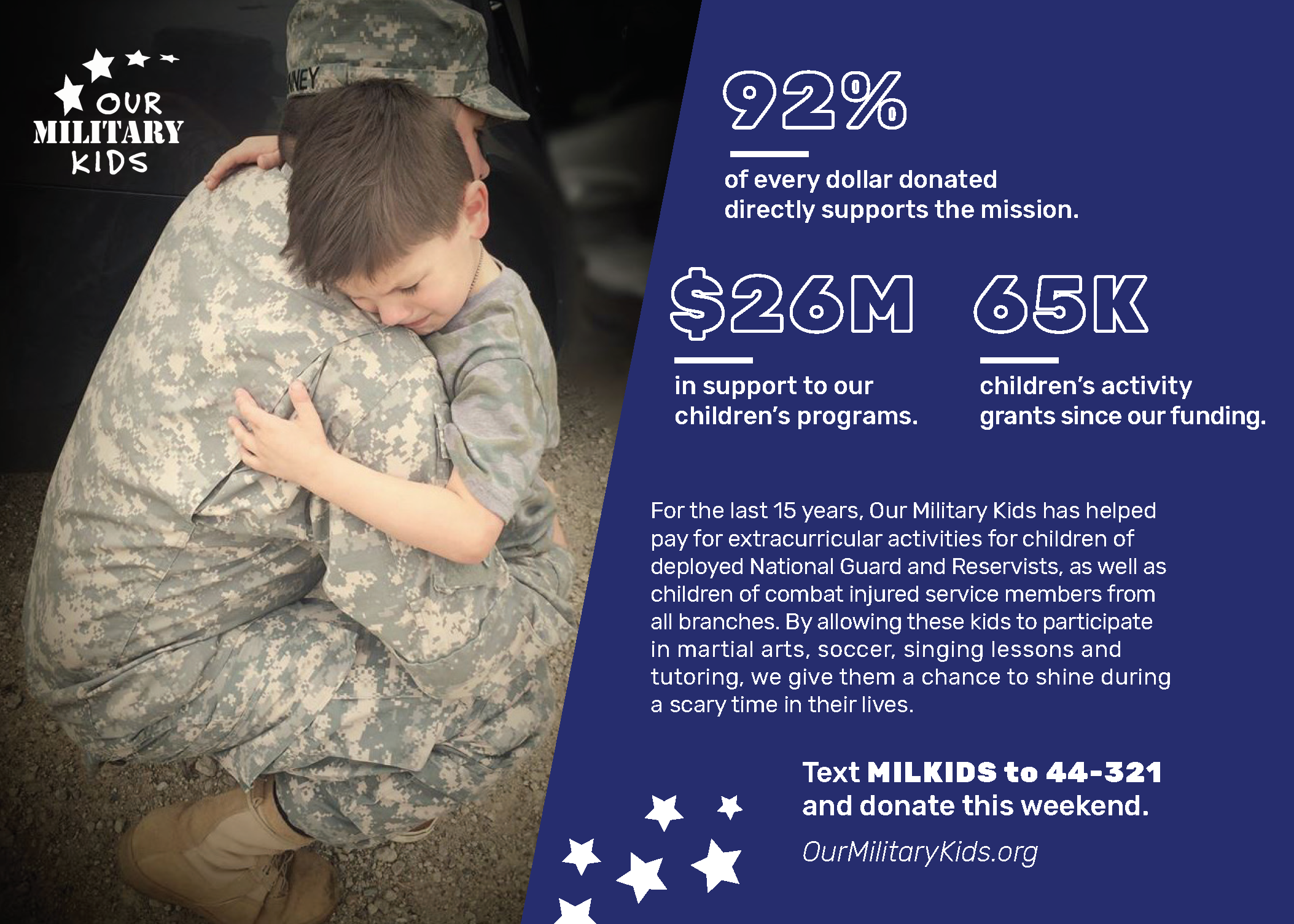 The 15-year-old nonprofit was founded in 2004 to provide children of deployed Guard and Reservists a way to manage the stress and anxiety that can accompany a parent's deployment. In 2008, the program expanded to include children of severely injured service members from all branches of the military.  By giving the children $300 for an extracurricular activity of their choice like martial arts, STEM programs, dance or piano lessons, and even tutoring, they are better able to cope with their parent's absence or recovery from injury.
LaJoie said his passion for racing began as soon as he could reach the pedals of the go-cart – probably around age three.  He raced go-carts throughout elementary school and it was an opportunity he cherished. It also motivated him to do well in in school because his parents wouldn't let him participate unless he had straight A's.
The nonprofit's mission is close to his heart because he knows the importance of extracurricular activities.  "These kids face tremendous challenges when their parents are deployed," he said.  "That's why if I can help fill a little bit of a void for them, it's worth its weight in gold," LaJoie said. Joining him trackside on Feb. 17 will be several local families that have received grants from Our Military Kids, including one in the middle of their father's deployment, another family on the heels of a deployment, as well as a family that has received grants because of combat injuries.
Rob Clapper, Executive Director of Our Military Kids, said that LaJoie's partnership and additional support from the Nascar community, could make a tremendous difference for the program, which recently reduced the maximum grant award from $500 to $300. The change is a result of increased demand for help – last year the nonprofit gave out 4,470 activity grants, an 18% increase over 2017, but it received fewer donations than the previous year.
Clapper said that LaJoie's passion and authentic style will help spread awareness about the need to support military families dealing with repeated deployments, or severe injuries. "Deployments can be really tough for kids.  Our program gives them something to focus on while their parents are gone or transitioning to a life with injuries," Clapper said.
Our Military Kids is funded entirely through corporate sponsors, foundation grants and individual donations.  For the past four years, it has received the top 4-star Charity Navigator rating for its efficiency and transparency.  More than 92 cents of every dollar raised goes directly towards children's activities. Since its founding in 2004, Our Military Kids has given out more than $26 million in activity grants. For more information, visit www.ourmilitarykids.org.
###