Priority Toyota Charity Bowl to Honor Our Military Kids at 50th Annual Event
March 8, 2018
SHARE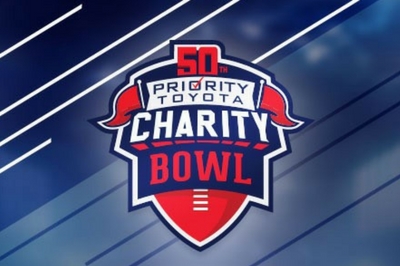 McLean, Virginia – A charity flag football game in its fiftieth year has selected Our Military Kids as its newest beneficiary. The event features celebrities, elected officials and football stars in a spirited, fun-filled flag football game at Old Dominion University. Dating back to 1968, the game began as a Thanksgiving match-up by former high school and college football players and has a longstanding tradition of raising money for children. Known as the Annual Priority Toyota Charity Bowl, the event raised close to $350,000 for children's charities in the Hampton Roads area last year.
Our Military Kids supports children of deployed National Guard and Reserve service members and children of wounded warriors from all service branches by paying for participation in activities that help kids cope with stress and anxiety while their parents are recovering or absent. Founded in 2004, Our Military Kids was started as a way to say thank you to families of Guard and Reserve personnel who endured lengthy and repeated deployments. In 2008, the group expanded to include children of severely injured service members. Our Military Kids has provided almost 60,000 grants to children throughout the United States. Shifting their focus to something positive like an extra-curricular activity is a welcome distraction and helps to lower their level of stress, making them more resilient.
Donations from the Priority Toyota Charity Bowl will benefit the children in the Hampton Roads area whose parents are deployed or recovering from combat-related injuries. "We are so grateful to the Priority Toyota Charity Bowl for including us in this year's game," said Angela Burton, Executive Director of Our Military Kids. "Our program makes a big difference for kids who are going through a tough time — and this support from the Charity Bowl will mean a lot to our families," Burton said.
The game will take place on Saturday, April 14th at 4:30 p.m. at the S.B. Ballard Stadium at Foreman Field at Old Dominion University. Other weekend events include a 5K race and a concert by Grammy nominee Joe Nichols. A full schedule is available on the website at www.prioritycharitybowl.com.
Our Military Kids, Inc. is a 501 (c)(3) nonprofit providing substantial support to children of deployed National Guard and Military Reserve service members and to children of wounded warriors from all active and reserve military branches. For more information, visit www.ourmilitarykids.org or call Gretchen Hitchner at (703) 734-6654.
# # #